August 14, 2007 – Guernsey, Channel Islands – Tethys Petroleum Limited (TSX:TPL) ("TPL" or "Tethys") is pleased to announce 2nd Quarter 2007 Financial and Operational Results.
FINANCIAL AND OPERATING HIGHLIGHTS (US$ except where noted)
The following table provides a summary of TPL's financial and operating results for the three and six month periods ended June 30, 2007 and 2006. Consolidated Financial Statements with Managements Discussions and Analysis (MD&A) will be available on the firms website www.tethyspetroleum.com and will also be available on the SEDAR website at www.sedar.com .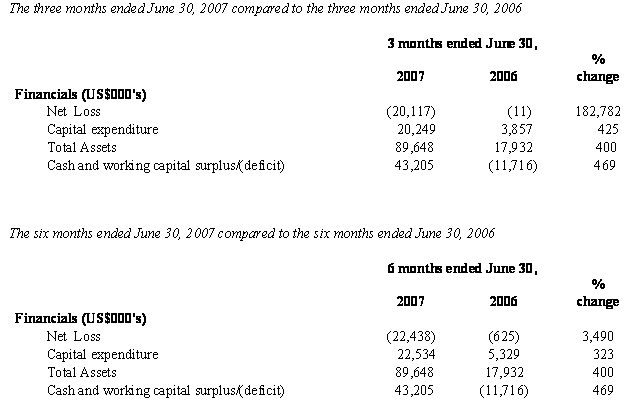 Highlights;
• Complete Initial Public Offering and listed on the main board of the Toronto Stock Exchange 

• Raised gross proceeds of US$50 Million

• Completed 35 mile (56 km) gas export pipeline and pressure tested and flowed gas down entire length

• Completed initial 5-well shallow exploration program announcing two commercial discoveries with one well still to test

• 211 miles (338 km) of new seismic data has been acquired over the Kul-Bas and Akkulka blocks to firm up both shallow and deep exploration targets

OPERATIONAL UPDATE
Tethys is focused on oil and gas exploration and production activities in Central Asia with activities currently in the Republic of Kazakhstan and more recently the Republic of Tajikistan. This highly prolific oil and gas area is rapidly developing and Tethys believes that significant potential exists in both exploration and in discovered deposits. This fits the Tethys strategy to seek out large exploration acreage in relatively under-explored basins that offer large potential upside, combined with proven oil and gas projects that offer early cash flow. In Kazakhstan its current development and exploration assets are located close to the Aral Sea in western Kazakhstan adjacent to the prolific Pre-Caspian basin. In Tajikistan Tethys is currently negotiating a Production Sharing Contract for the Kulob Area in the south-west of the country. Other potential assets are being evaluated and will be progressed if they fit the criteria of the Tethys corporate strategy. Tethys currently has independently assessed gas reserves of 85.8 billion cubic feet (2.43 billion cubic metres ) and unrisked prospective resources of 744 million barrels oil equivalent.
KAZAKHSTAN
WEST ARAL PROPERTIES
Shallow Gas Development
Tethys' principal assets are presently located in an area of Kazakhstan to the west of the Aral Sea, in a geological area known as the North Ustyurt basin, which lies on the south-eastern edge of, and is essentially an extension of, the prolific Pre–Caspian sedimentary basin. Tethys currently holds a 100% interest in substantial lands in this area, totaling over 2,700,000 acres (11,000 km2). Tethys has existing proven gas reserves in the Kyzyloi Gas Field, and further potential upside for shallow gas and deeper oil in the surrounding Akkulka Exploration Licence and Contract area, and the much larger Kul–Bas Exploration and Production Contract area. In addition to this acreage Tethys recently reached conditional agreement to acquire 100% of the large, 2,800,000 acre (11,316 km2), Aral Vostochniy Exploration Contract to the east of and adjacent to the Aral Sea, subject to certain conditions being met.
On the west Aral properties Tethys recently completed the construction of a 35 mile (55 km) 12.8 in (325 mm) diameter pipeline and associated compression plant, connecting Tethys' Kyzyloi Gas Field to the Bukhara-Urals pipeline, one of Central Asia's major export trunklines. In addition to this Tethys completed the commissioning of the existing wells on the Kyzyloi Field and pressure tested the pipeline, flowing gas down the entire length. The Kyzyloi Field and surrounding accumulations contain sweet dry gas reservoired in good quality sandstones at a depth of less than 2,000 feet (600 metres). The initial production rate is planned to be 22 million cubic feet per day (MMcf/d) (623 thousand cubic metres per day (Mcm/d)), but the infrastructure has been put in place with the intention of supporting a much larger capacity production rate of up to 72 MMcf/d (2,039 Mcm/d) with Tethys intending to achieve this from exploration in the surrounding area. The existing Kyzyloi Field wells have tested at an aggregate rate in excess of 25 million cubic feet per day (MMcf/d) (708 thousand cubic metres per day (Mcm/d), not including AKK05 (north-east Kyzyloi). The Kyzyloi gas development is one of the first dry gas developments in Kazakhstan and is commercially underpinned by a long term take-or-pay gas offtake agreement. Regional gas prices have increased significantly recently, and Tethys expects to benefit from these rising prices as additional gas is brought on production.
With the Kyzyloi pipeline system now completed and tested, all that remains to commence gas sales is the tie-in of the pipeline to the major Bukhara-Urals trunkline, integration of the Kyzyloi compression and control systems with the trunk-line systems and final certification of the system by a senior governmental commission. The tie-in will be carried out by Intergas Central Asia (part of the Kazakh State gas company KazTransGas) who own and operate the trunkline. Now that the pipeline has been completed and TPL has met its obligations the State can now proceed with the tie-in to the main trunkline. Once this has been carried out then the high level Kazakh government commission will visit the operation to provide full certification of the system following which commercial gas deliveries will commence, these being expected in October 2007. TPL believes that this is one of the first significant pipeline systems constructed by a non-state company for the development of a dry gas field.
In late 2005/early 2006 two exploration wells drilled by Tethys, the AKK04 and AKK05, tested dry gas at rates of 8.8 MMcf/d (249 Mcm/d) and 7.9 MMcf/d (224 Mcm/d), respectively. In 2007 Tethys completed a further five shallow exploration wells in the Akkulka Area with the AKK08 and AKK09 wells successfully testing at commercial rates of 2.6 Mmscf/d (74 Mcm/d) and 6.7 Mmscf/d (190 Mcm/d) respectively. In total some 26 MMcf/d (726 Mcm/d) of gas has been tested by these Tethys exploration wells in the Akkulka block. The AKK10 well has been drilled and is about to be tested. Tethys has already identified more than 27 additional drilling locations in the Akkulka and Kul–Bas Blocks, which have the potential to significantly increase production. Tethys intends to drill a further 10 wells by June 2008. Following the results of the AKK09 well, Tethys has acquired additional seismic data over the central part of the Akkulka block and plans to spud a further exploration well (AKK11) in this area within the next three weeks.
Tethys is currently carrying out a dynamite / vibroseis seismic program in the Kul-Bas and Akkulka blocks, with some 211 miles (338 km) of data having been acquired to date. This seismic is focused both on firming up additional exploration targets for shallow gas, and also for the deeper oil potential. Initial processing shows this data to be of good quality giving better definition to both the shallow gas and deeper potential oil targets. Based on this Tethys has decided to extend this survey up to approximately 400 km (250 miles) over both the shallow and deep prospects.
One of the areas on which the seismic data has been focused is the Kokbulak shallow gas prospect in the Kul-Bas block. Initial seismic data indicated what Tethys believes is a sizeable gas prospect, and this view has been re-enforced by the new seismic data. This seismic is currently being optimally processed to firm up the exact location of this well which is expected to spud after the completion of AKK11 in late September of this year.
Deeper Oil and Gas Exploration
As well as additional gas potential Tethys believes that there is significant potential for oil deposits in the deeper Jurassic and Triassic syn-rift sequences on the flanks of large structural highs ("flank" plays). Within the Akkulka and Kul-Bas Blocks seismic re–interpretation of existing data has indicated that there are several large prospects which have been independently verified. Tethys considers the much larger Kul–Bas Block to also have significant oil and gas potential in deeper horizons ranging from the Carboniferous through to the Jurassic. Additional seismic data has recently been acquired to firm up this prospectivity.
Recent re-evaluation of well data in the area, and the results of the new seismic data lead Tethys to believe that the large "high" which underlies the Akkulka block has not been fully evaluated for its hydrocarbon potential. The same would apply to the highs which transect the Kul-Bas block. One of the principal reservoirs in the region is the Carboniferous, which is a prolific producer further north, but which appears not to have been fully evaluated in this area. The newly acquired seismic data gives better resolution at these deeper levels and is about to be processed using techniques to better image these deeper events including very low frequency processing. Although several wells have been drilled on the high these have not penetrated the potential Carboniferous reservoir. Tethys is now considering the possibility of re-entering two previously drilled wells on the high, G5 and G6, to ascertain their suitability for deepening to the Carboniferous target and / or sidetracking to evaluate the Triassic and Lower Jurassic "flank" plays mentioned above. In addition it is planned to carry out downhole seismic surveys in these wells, integrating these data with the new surface seismic and to obtain more reliable data ahead of their current depths ("look ahead") and by using an offset seismic source ("walk away") to obtain better data for potential sidetracking to the "flank" plays. An 80 tonne rig is currently being mobilised to the area to re-enter the wells, prepare them for the planned seismic surveys and to check well integrity for potential deepening and/or sidetracking. Once these data have been obtained a decision will be made on the optimum way to test these targets, and the appropriate drilling equipment sourced and mobilised. If sidetracking and/or deepening these wells is technically feasible significant cost and time savings could be made on the exploration program.
By following this approach Tethys will be able to test both the 'high' which Tethys believes has good potential, and the surrounding Triassic/Jurassic "flank" syn-rift prospects previously identified. Given the time required to complete the seismic interpretation and data gathering, and preparation work, Tethys would plan to mobilise suitable drilling equipment in early 2008 to commence drilling after the spring melt has finished and ground conditions are optimal.
EAST ARAL PROPERTIES
On May 10, 2007, Tethys, through Tethys Kazakhstan Limited, signed an agreement to acquire NBC, who have 100% rights to the Aral Vostochniy Block.
The Aral Vostochniy Block located to the east of the Aral Sea and is relatively under–explored but lies on the edge of the East Aral basin, the eastward extension of the North Ustyurt basin, in a similar structural position to Tethys' current acreage. Several structures have already been identified on the block and with gas reportedly flowed to surface. The block is currently being evaluated with the intention of shooting seismic in 2008 and drilling thereafter.
NBC has four months from the Tethys IPO to satisfy certain conditions upon which the transaction will be completed. Full details of the transaction can be found in the Final Prospectus filed with SEDAR at www.sedar.com .
TAJIKISTAN
Tethys believes that there is an opportunity for both oil and gas development potential in the "virgin" exploration territory of the Afghan–Tajik basin, a continuation of the prolific Amu Darya basin, in the Republic of Tajikistan to the southeast of Tethys' current assets in Kazakhstan. There are also opportunities for early oil and gas production through rehabilitation of existing fields. In January 2007, Tethys signed a Protocol of Intent with the Tajikistan government to negotiate a production sharing contract ("PSC") for the large Kulibsky (Kulob) area of south-west Tajikistan and in early March 2007, the Tajikistan government introduced production–sharing legislation for the first time which lays the fiscal and commercial framework for such a PSC. The Company believes that the previous lack of a legislative and commercial framework was the primary reason for western oil and gas companies not establishing themselves in Tajikistan. Tethys has recently extended the term of its Protocol and expects to have a PSC or similar in place by the fall of 2007, allowing field rehabilitation work to commence and seismic data to be acquired to firm up several attractive leads in the area. Tethys believes that the Kulob area offers very significant potential with existing discoveries in a proven hydrocarbon system with several different source rocks, reservoir rocks and large structures created both by tectonic activity and active salt movement.
Tethys is focused on oil and gas exploration and production activities in Central Asia with activities currently in the Republic of Kazakhstan and more recently the Republic of Tajikistan. This highly prolific oil and gas area is rapidly developing and Tethys believes that significant potential exists in both exploration and in discovered deposits.
This press release contains "forward-looking information" which may include, but is not limited to, statements with respect to our operations. Such forward looking statements reflect our current views with respect to future events and are subject to certain risks, uncertainties and assumptions, including, the risks and uncertainties outlined under the section titles "Risk Factors and Uncertainties" in our prospectus (available at www.sedar.com). Should one or more of these risks materialise, or should underlying assumptions prove incorrect, actual results may vary materially from those anticipated, believed, estimated or expected. Additional information in respect of the Kyzyloi shallow gas field and the Akkulka and Kul-Bas Contract Areas area including location, area, geologic age and lithology, depth, estimated costs and gas marketing information, appears in TPL's prospectus dated June 18, 2007. BOEs may be misleading, particularly if used in isolation. A BOE conversion ratio of 6 Mcf: 1bbl is based on an energy equivalency conversion method primarily applicable at the burner tip and does not represent a value equivalency at the wellhead.
For more information please contact:
Sabin Rossi
Investor Relations Manager
Tethys Petroleum Limited
TD Canada Trust Tower
161 Bay Street, 27th Floor
Toronto N5J 2S1
Canada
Office: 1-416-572-2065
Fax: 1-416-572-2201
Cell: 1-617-669-1841
e-mail: info@tethys.gg
website: www.tethyspetroleum.com